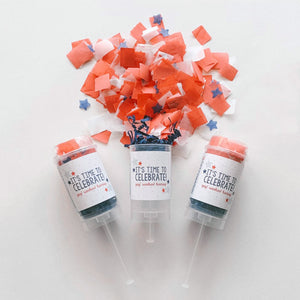 Homefront Heroes Stars & Stripes Confetti Popper
Custom made with patriotic-themed confetti, this is a fun, festive way to celebrate your hero coming home!
To Use: hold firmly in one hand, and with the other hand, quickly force the wand up (like a volleyball underhand serve). An alternate way to use it: remove the lid, and while holding upright, lower the popper down to your side, and then quickly bring hand up, forward, as fast as you can and let the momentum throw the confetti.
Note: Confetti may bleed if it gets wet.